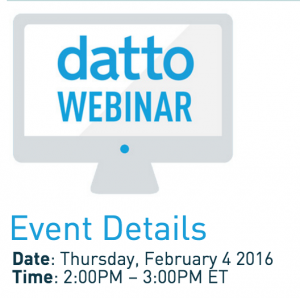 Emergencies can strike your business at any time whether it's a fire, robbery, flood, earthquake, or human error. In fact, according to IDC, the average data loss incident leaves you with seven hours of downtime. That's almost an entire workday lost, and without even taking into account the original cause of the data loss incident.
It's vital to have a process in place to make sure your business can continue to move initiatives forward, maintain compliance, and keep downtime to a minimum. This requires a Disaster Recover and Business Continuity plan, but without the right knowledge, there's no guarantee that your plan will be effective.
We want to give you the keys to creating an effective Disaster Recovery plan. Sysoft is pleased to invite you to our upcoming webinar on February 4th, 2016 at 2:00 pm. We've partnered with Datto to show you the 5 key elements of Disaster Recovery and Business Continuity Planning. Call (416) 410-7268, email us at info@sysoft.ca or click here to RSVP.
Why Do You Need Disaster Recovery?
Without an effective Disaster Recovery plan, your business could suffer devastating consequences as the result of an emergency. Think for a minute about how difficult it would be if you couldn't access your computers or data for an extended period. Data loss can affect your business' reputation by leading to loss of business, loss of momentum, and the high costs of re-creating the work that was lost.
The webinar will feature insight from key speakers Donna R. Childs, Founder of Prisere LLC; and Christine Gassman Manager and Partner, Development at Datto.
You can't afford to miss out. We'll address the most common questions as we go over the 5 keys to creating a Disaster Recovery and Business Continuity Plan:
Understanding your business impact
Employee safety and communications
Proactive customer communications
IT infrastructure and continuity of operations
Financial impact and insurance preparedness
If you are only reacting to IT emergencies, it'll probably be too late. With our help, you can proactively prevent and effectively respond to disasters that affect your Toronto business. Contact Sysoft at (416) 410-7268 or info@sysoft.ca today for more information.